(Last Updated On: August 27, 2019)
Disclosure: I received the awesome outfits from Cariloha for review. My love of working out, my excitement of hitting my weight loss goal, my love for Cariloha Bamboo Fit Clothing, and all opinions are 100% my own!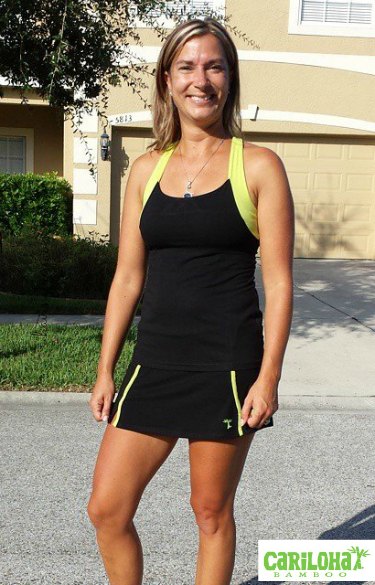 Cariloha Helped Me Rock My Fitness Goals!
I hit my weight loss goal this week! It was a goal that I actually NEVER thought I would hit. For SIX years I never lost one pound (I know you have all heard me complain about that plenty 😉 ) and for the last three days I have been at or below my goal weight. I am not sure there are words that can describe how I am feeling! I honestly thought there was no way I would make it to this point and I DID.
Over the last six years I have eaten well, worked out 4-5xs a week, ran in two half-marathons, biked, swam, etc. And my weight never changed. I gave up at one point, got completely discouraged. It took a few weeks and a great talk with my mom (who is working on her life goals as well) to get me back on track. But I got there. I put my tennis shoes back on.
I also switched up just a few things about how I ate. I have added Quinoa to almost all my rice dishes (I use half quinoa and have rice), I had gotten creative with quinoa salads (you check out some recipes here), I started cooking with coconut oil, and I drink one coconut water a day, and I make sure I get in my 64 oz of water. I made very small changes I think. I still like chocolate and wine and I have a very hard time turning down Mexican food 🙂
I HAVE to workout. And this summer I was really concerned about how I would stay on track. The kids and I were up in Michigan for about 5 weeks – we camped for 2, then we were at my mom's and visiting other friends and family. My mom loves Jazzercise too, so we were able to go to classes when we were at her house. When we were camping I got out and ran.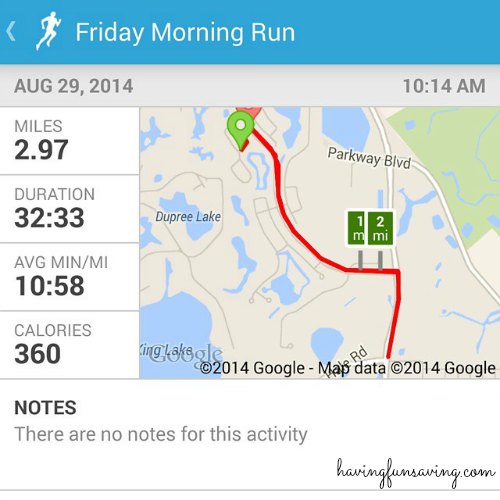 Even though I was out of my element – I still had to make time for ME. I look at my exercise time as MY TIME. There are days where I think there is no way I have time. It's 30-60 minutes a day. I am worth that time. You are worth that time. You go to work, you feed your kids, you clean your house, do your laundry, you have to take care of YOU too. I think it was when I realized that, I actually started losing weight.
I am thrilled to say I am down 8lbs and I can't remember the last time I was at this weight. It was at least 6 years ago…maybe 10 since my oldest is 9! I am that dork that now weighs herself daily to make sure it doesn't all of a sudden jump up 3lbs, but I am still on track after a few days 🙂 My next goal is another 5 lbs. I think I can do it. Come on my healthier life journey with me!!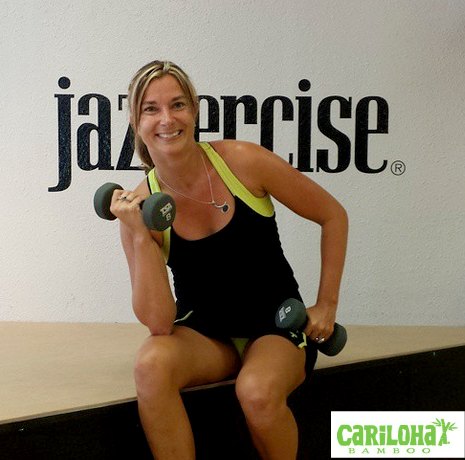 Almost as important as working out is having clothes that you feel comfortable in. If you aren't comfortable in what you are wearing, or don't feel like have fun clothes to wear – working out isn't as "fun." I look for clothes that I can run in as well as wear to Jazzercise. That means they have to not ride up on my stomach or bum. If the tank has a shelf bra, it can't be too tight or it will start to bother me after about 30 minutes. At Jazzercise I skip, jump, crunches, squats, lunges, hopping, weights…you name it! I can promise you that I am particular on my clothes!
You will see in the Black outfit above – the Bamboo X-Cami and Fitness Skirt – the fit is great, but my favorite part is the running shorts under the skirt. That way I don't have to worry about flashing anyone when I am doing my reverse crunches 😉
The fit and quality of clothes is just one of the reasons that I looked to Cariloha this school season for fitness clothes. School Season? Yes, now that school is back in session I now have a regular schedule – that means a regular workout schedule! We all have a more "regular" routine now – so NOW is the time to get your fitness routine back on schedule.
And if you want to feel good about what you are wearing too, you will love the flexibility, breathability and versatility with Cariloha's Bamboo Fit. There are quite a few different styles, you are sure to find one that you love. I haven't found one that I don't love yet!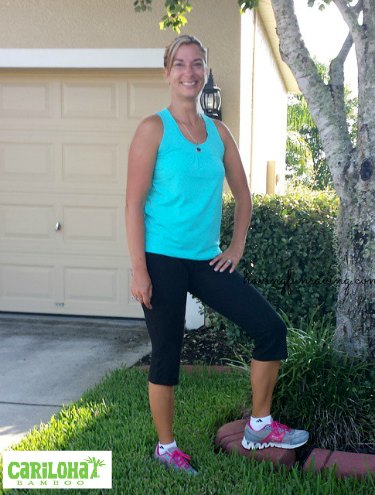 Each piece of clothing is made of viscose from bamboo, is hypoallergenic, and keeps you 3 degrees cooler than cotton. When I am at Jazzercise or running out in the Florida heat – I definitely appreciate those 3 degrees 🙂
Check out Cariloha Bamboo Fit
So, are you ready for start, re-start, or continue on with your fitness routine? I know you are! I am here to support you! So is Cariloha!
Make sure to check out Cariloha on Facebook and Twitter to stay social and up to date with deals and specials!
Be sure to stay up to date with me too 🙂 Find Food Wine Sunshine on Facebook, Twitter, Pinterest, and Google +.
We can take the healthy journey together.