(Last Updated On: June 7, 2019)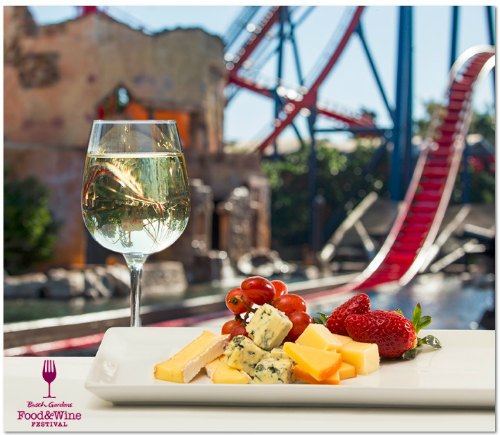 Busch Gardens Food & Wine Festival 2015
Food, wine, and Busch Gardens. I would have to say that those are three of my favorite things. If you like like all those things too, you will be happy to know that Busch Gardens is hosting the Inaugural Event, the Busch Gardens Food & Wine Festival! It will definitely tempt taste buds with more than 50 Wines, 50 Craft Brews and Variety of Culinary Delights starting on March 7th 2015. You can enjoy the Busch Gardens Food and Wine Festival through April 26th.
Check out the Busch Gardens® Food & Wine Festival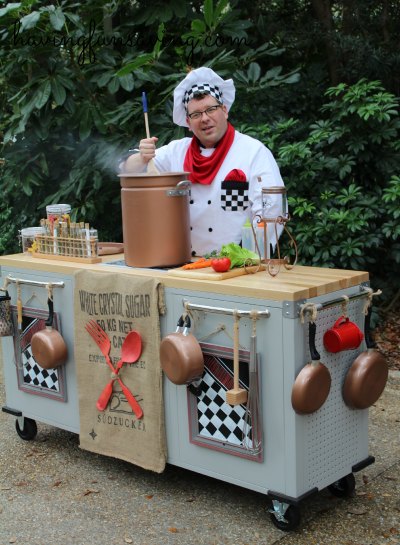 You will find everything from comfort classics like bacon mac & cheese to decedent desserts like passion fruit flan. Here are a few stops you won't want to miss:
Gourmet Lodge:
Explore the exotic flavors of Gourmet Lodge, featuring duck confit, venison chili and other exciting dishes.
Savory Tavern:
Tempt taste buds with the rich flavors of Savory Tavern, including coconut shrimp cigars, braised lamb shank and passion fruit flan.
Chef's Plantation:
Pan-seared salmon cakes, a griddled cheese cake sandwich and more await your palette at Chef's Plantation. If you try the griddled cheese cake sandwich, please let me know how it is…I have heard it's to die for!
Coast to Coast Cookery:
Flavors of the land and sea come together at Coast to Coast Cookery, featuring hangar steak, bacon-wrapped prawns and more.
Field House Eatery:
The Field House Eatery is the Festival's biggest location, offering pan-seared scallops, roasted pork belly and mango éclairs right on Gwazi Field. The Mango Eclairs are definitely one of my favorites 🙂 You guys know how I love my sweets!
Southern Station:
Southern Station tantalizes taste buds with shrimp & grits, pan-fried cod and beef short rib.
Comfort Kitchen:
The Comfort Kitchen fuses classics like bacon mac & cheese with contemporary eats like habanero shrimp salad. Bacon and Mac n' Cheese…need I say more?!
Light Fare Canteen:
Freshen up your palette at the Light Fare Canteen with scallop ceviche and an heirloom tomato & goat cheese salad. Even if you aren't a scallop fan, you must try this. It's light and YUM!
Blazin' Bistro:
Blazin' Bistro breaks out the grill for fire-braised pork chops and jerk chicken sliders. I strongly recommend the Jerk Chicken Sliders – they are delicious!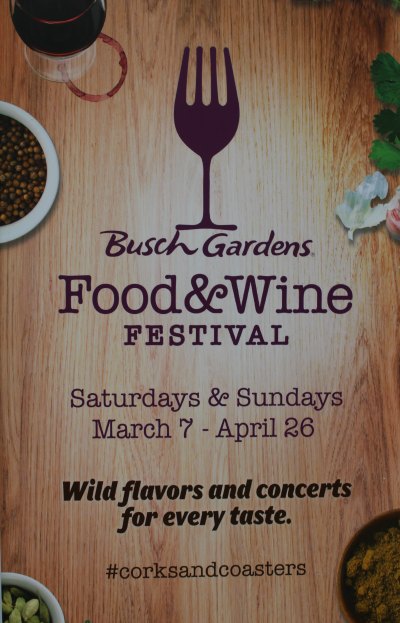 When is the Busch Gardens Food & Wine Festival?
Saturdays and Sundays, March 7 through April 26
What time is the Busch Gardens Food & Wine Festival?
The Busch Gardens Food & Wine Festival runs from noon to 9 p.m. on Saturdays and Sundays, March 7 through April 26.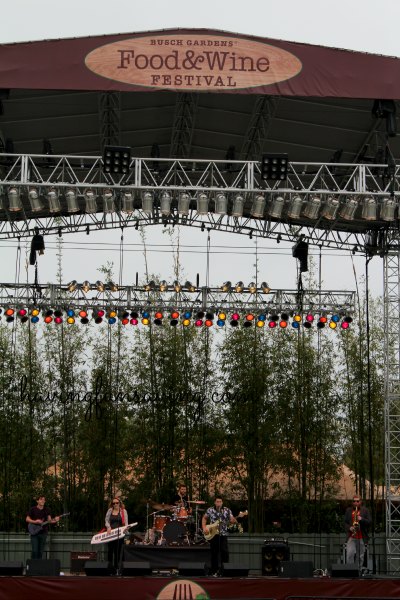 Is there any Live Entertainment during this event?
Yes! There will be live concerts at 6 p.m. on Gwazi Field.
How much is the Busch Gardens Food & Wine Festival?
The Festival is included with any pass, Fun Card or daily admission. Food and beverages are available for purchase at an additional fee.
Check out the Concert Line-Up:
Saturday, March 7: Gavin DeGraw
Sunday, March 8: Fifth Harmony
Saturday, March 14: Kool & The Gang
Sunday, March 15: Boys Like Girls
Saturday, March 21: Kenny Rogers
Sunday, March 22: Pentatonix
Sunday, March 28: Steven Curtis Chapman
Saturday, March 29: El Gran Combo
Saturday, April 4: Collective Soul
Sunday, April 5: Echosmith
Saturday, April 11: KC and the Sunshine Band
Sunday, April 12: Josh Turner
Saturday, April 18: Austin Mahone
Sunday, April 19: Daddy Yankee
Saturday, April 25: Daughtry
Sunday, April 26: Aloe Blacc
Headlining concerts begin at 6 p.m. and additional local bands and live DJs will perform when the Festival opens at noon each event day.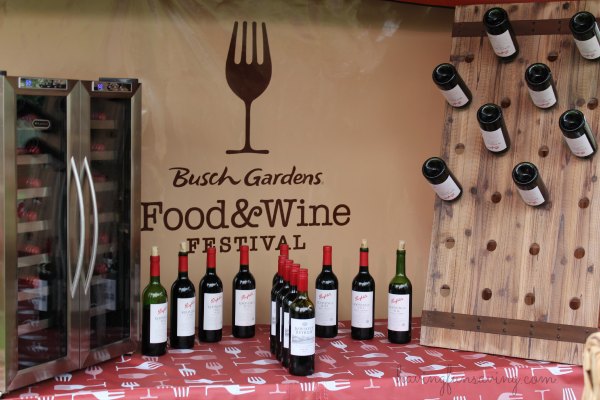 Make sure to join the conversation by using #corksandcoasters on Busch Gardens' Facebook , Twitter and Instagram.
While you are at it make sure to check out Food Wine Sunshine on Facebook, Twitter, Pinterest, Google + and Instagram for more Florida fun, recipes, and more.