(Last Updated On: June 25, 2019)

BRIO Tuscan Grille – A Tale of Two Risottos Deal
If you love amazing Italian food, you love BRIO Tuscan Grille. And since you already love BRIO Tuscan Grille, you are going to love this Tale of Two Risottos Deal. "A Tale of Two Risottos" features two dishes for only $19.95 at either lunch or dinner. Each dish is under $20!!! But, this offer is only available for a limited time, so don't miss out!
For centuries, risotto has been a dish savored by the Italians and people across the world who embrace the exceptional style of Italian cooking.
A "Tale of Two Risottos" brings to the table the following savory risotto dishes:
Lobster and Shrimp Risotto
Broiled Maine lobster tail served over risotto with shrimp, mushrooms, asparagus, roasted red peppers, basil and Parmesan
Sea Scallops with Risotto
Five large, seared sea scallops served over a roasted vegetable ratatouille risotto
For the perfect complement to either of the risotto dishes, and to celebrate the 25th anniversary of Conundrum white wine, BRIO recommends Conundrum white blend or red blend, priced at $11.95 glass.
This amazing offer is only available at participating locations, and if you are one of my awesome Tampa Bay Readers, we have two locations right here in our backyard!
BRIO Tuscan Grille at International Plaza in Tampa and The Mall at University Town Center in Sarasota are indeed two of the participating locations, now through March 27. Each dish is available at both lunch at dinner, and priced at only $19.95.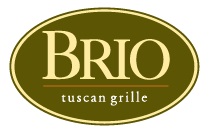 About BRIO Tampa at International Plaza
BRIO Tampa at International Plaza is located at 2223 N. West Shore Blvd., Tampa, FL 33607. The 20,000-square-foot Tampa BRIO location offers indoor seating for 190 guests and al fresco dining for 44 on the Italian-style terrace. The second floor of the venue has been designed to host events with six private rooms and two outdoor patios. Three of the private rooms are adjacent to an outdoor patio and three private rooms are attached to outdoor patio space allowing various opportunities to configure space to accommodate parties of 16–225. The upper level event space was additionally designed with a separate kitchen and bar area as well as private restrooms to service events exclusively and ensure attention to detail on banquet menus as well as an exceptional guest experience. BRIO is open seven days a week, Sunday 11:30 a.m.–9 p.m., Monday–Thursday 11:30 a.m.-10 p.m., Friday and Saturday 11:30 a.m.–11 p.m.
About BRIO at The Mall at University Town Center
BRIO at The Mall at University Town Center is located at 190 University Town Center Dr., Suite 107, Sarasota, FL 34243. The restaurant has indoor seating for 183 guests (including a private dining space seating 54) and al fresco dining for 133 on its outdoor terrace. Hours of operation are Sunday 10:30 a.m. –10 p.m., Monday–Thursday 11 a.m.–10 p.m., and Friday and Saturday 11 a.m.–11 p.m.
About BRIO Tuscan Grille
BRIO (meaning "lively" or "full of life") is a "polished casual" restaurant serving authentic, northern Italian cuisine. The subtitle, "Tuscan Grille" is descriptive in the menu that features oven-roasted steaks, chops and seafood, similar to what one would find in an authentic ristorante in Tuscany. BRIO's philosophy is "to eat well, is to live well;" which is why it only uses the finest and freshest ingredients. BRIO brings the pleasure of the Tuscan country villa to the American city.
While this post is sponsored by the fabulous folks at BRIO Tuscan Grille, all opinions are 100% my own.
Find a BRIO Tuscan Grille Location Near You
Check out BRIO Tuscan Grille on Facebook, Twitter to stay up to date with the latest deals, meals and all things delicious!
In fact, be sure to check out all the delicious recipes on Food Wine Sunshine and follow me on Facebook, Twitter, Pinterest, Google + and Instagram.