(Last Updated On: May 27, 2020)
Northern Michigan is filled with wineries and stunning views that you don't want to miss. Here are the Best Michigan Wineries to Visit.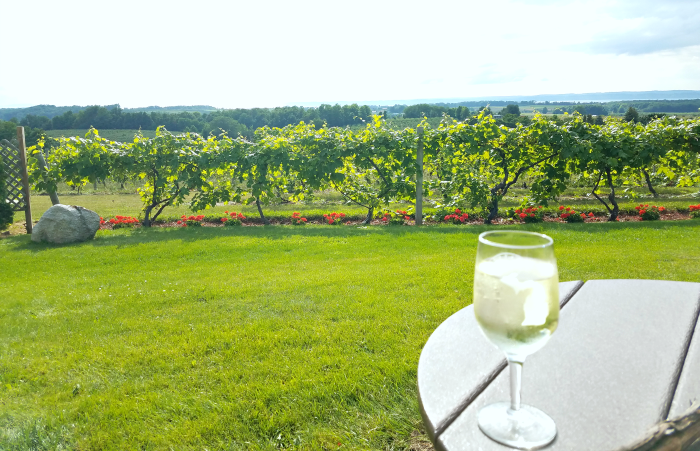 10 Best Northern Michigan Wineries to Visit
Yes, I said Michigan wine. For all my fellow wine drinkers out there, I am guessing you didn't even know wineries in Michigan existed. Well, Michigan wine does exist, and the state features some of the most gorgeous wineries and views that I think I have ever seen. Now, I may be a bit biased, as I grew up in Michigan and I go up to the Traverse City area every year. But even to the newcomer, you will see that you can't help but be in awe. And while I like to think that the beauty of Northern Michigan is a secret, there are quite a few celebrities that call it home (or at least their summer home), like Tim Allen and Carter Oosterhouse.
My husband and I were married in Northern Michigan, and both of our children were baptized in the small town of Suttons Bay. I have lived in Florida for over 15 years, but we still drive up every year so that we can experience the beauty of Northern Michigan and spend time with friends and family.
Now, I will openly admit, that I haven't found a "true" red wine in Michigan. They definitely try though! I just haven't found that one that can even come close to a complex Napa Cabernet. But, the whites are crisp and easy drinking and again, the views at the wineries are just unreal.
So, if you happen to be traveling in Northern Michigan, I thought I would share with you my picks for the best Michigan wineries to visit. These are the same wineries that we visit every year. They are the Michigan wineries that you will not want to miss. And to me, they are the wineries that are worth the long 28 hour drive it takes to get there.
Here are the 10 Best Michigan Wineries to Visit. Cheers!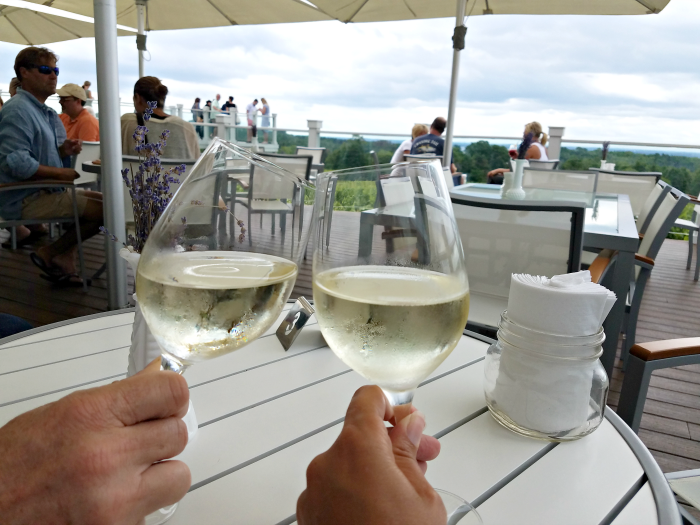 You will walk into a gorgeous tasting room, but I recommend heading right out the door to the right and going up to the balcony. Here you can order a glass of wine or one of their famous Frose cocktails and small plates. Take a few pictures of the bay then put your phone away and just enjoy the views. My favorite wines here are the Naked Chardonnay and the Sauvignon Blanc.
Chateau Chantal Winery and Bed & Breakfast
This is our honeymoon spot! We actually stay here every year for a night to celebrate our anniversary, so it will always be on my list of the best Michigan wineries to visit. The staff is beyond friendly, and the owners really make you feel like you are a part of the family. If you choose to stay the night at the B&B too, just a word of advice…do not be late for breakfast. They aren't kidding when they say "You snooze, you lose."
The winery has an incredible deck that has plenty of seating, and their prices for tastings are very reasonable. If you get the chance to be there on a Thursday, I highly recommend staying for a Jazz at Sunset performance. I usually end up buying a couple of their bottles just for the labels, I mean, how can I resist the Naughty Red? Like I mentioned, I don't really enjoy Michigan Reds, but the bottle is definitely a conversational piece on my wine wall. I do enjoy a glass or two of the bubbly here, Tonight and Celebrate are my usual go-tos.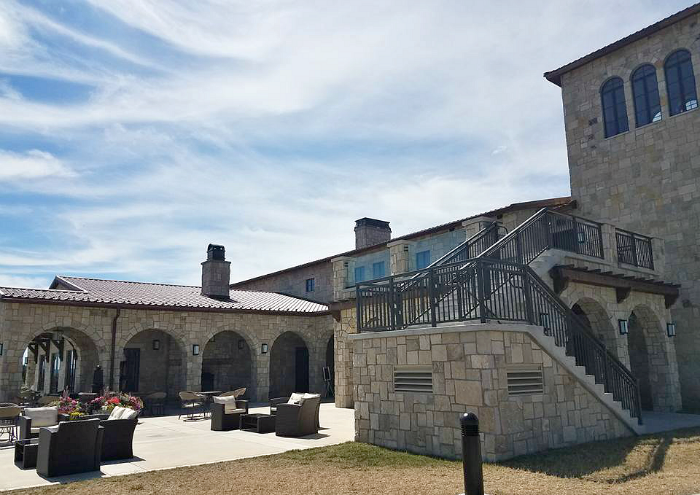 Even if you don't taste the wine here, you have to walk in. It's like walking up to a beautiful old castle with a view that will make you forget about just about everything else.
This is one of the newer wineries up on Old Mission Peninsula, and I will be honest, we drove right past it the first time we saw it because the front facade isn't much to look at. Don't make the same mistake we did. When you walk in you are greeted by window after window and a view of the vineyards. The inside is a modern twist of Michigan beauty. They sell small plates here too, so if you need a bite of food to go along with all the wine you have been tasting, this is a good stop. Grab a small plate and a glass of wine and head out to one of the picnic tables on the deck.
The tastings here are a bit on the pricier side, so we usually just go with a glass. If you ask the server if you can have a small taste of the wine you are going to buy a glass of, they usually do that without any issues. I usually get the Pinot Blanc here.
Leelanau Cellars is clear on the other side of peninsula, but it's worth the drive. Plus, it's a beautiful drive along the water. I recommend stopping here for a few reasons, it has the most affordable wines, I always make it a point to stop here to bring home wine for my friends back in Florida, plus you get a discount if you get a case. The tastings are free. Yes, free. No matter how many you try. The view of Grand Traverse Bay is absolutely stunning. It's also in the same building as the Why Knot Bar and Restaurant, so walk over and grab some fish and chips.
If you like bubbly, then you have to make sure Mawby is on your list. Plus, a bottle of Wild, Detroit and Sex are always fun to buy.
45 North and Blustone are great to hit on the same afternoon, they are right by each other, but they each offer a different vibe. 45 North is a barn-like atmosphere with lots of seating and outside games to keep everyone in the family happy. Tastings are priced similar to the other wineries on the Leelanau Peninsula, but we like to come for the atmosphere and small plates, so of course you end up doing a tasting or two.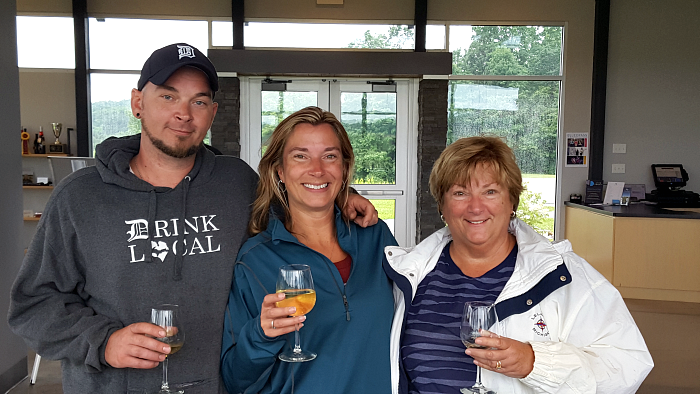 Head to the top of the hill and will be rewarded with an intimate setting inside and a simple porch with views of the vineyards. I do buy a red wine here, AD LIB, it's a casual drinking red and it's priced great at just $16. I also like the Pinot Grigio (so does my mom), and the ciders are good. My brother really likes the kick of the Ginger Apple Cider.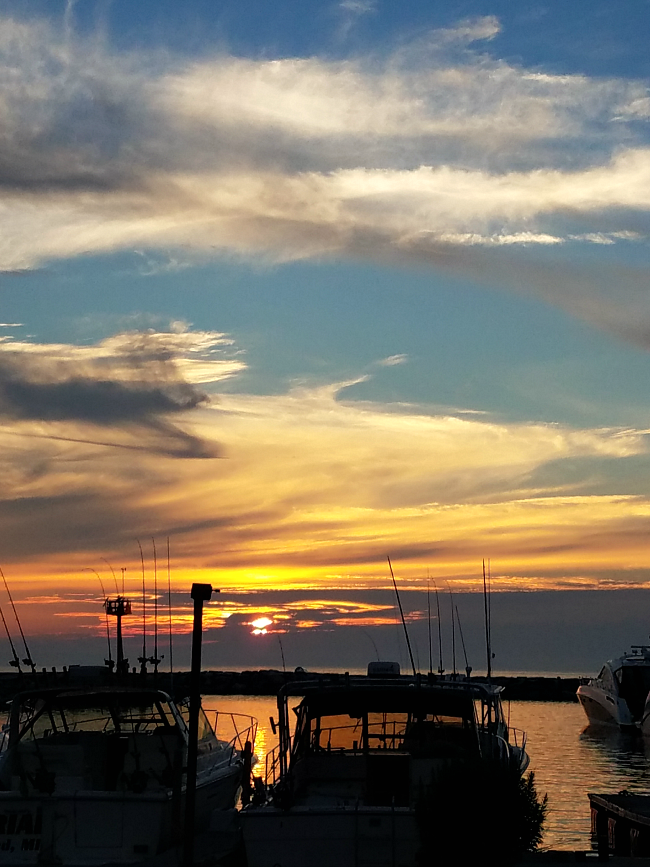 No views to boast of from the windows here, but it is right in one of my favorite towns, Leland. Leland is filled with cute shops and one of my favorite restaurants, The Cove. So, head to Verterra, do some tastings and cruise the town for a few hours. And don't leave before watching the sun set on Lake Michigan. I do really enjoy the Pinot Grigio here, and if it was a good harvest, I usually buy a case.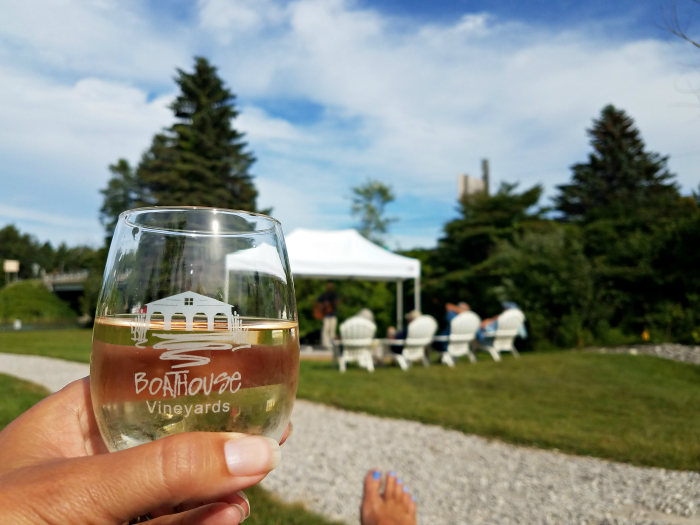 The Boathouse is unique as it's right on the canal, so all you have to do is walk in, get a glass of wine and head right outside to one of the many lawn chairs and watch the boaters cruise by. They also have live music a few nights a week in the summer, so we usually plan to go on those days. Can you think of anything better than drinking wine with friends, with the water in the background and listening to live music? I can't!
In fact, the kids even like going to this one because they love the music and watching the boats. Since my husband prefers red wine and we are usually here for awhile, we get a bottle of the Cab Franc, it's not a bad price at $32, but do not expect it to taste like a California wine…it's not. I also like the Pinot Grigio. I feel like you really can't go wrong with a Pinot Grigio, well, unless it's really sweet. I was told that two Rosé's will be making an appearance in 2020 and I absolutely love Rosé so I am really looking forward to trying them! I will let you know what I think after we visit in late summer.
This one isn't a winery, but I am adding it here as a bonus for you all. You're welcome. You can actually walk from the Boathouse to Northern Latitudes. Northern Latitudes is a distillery and it offers free tastings, but I recommend skipping the crazy crowds around the tasting area and head straight to the bar. They make some of the most amazing cocktails you will ever have, and I am not over exaggerating.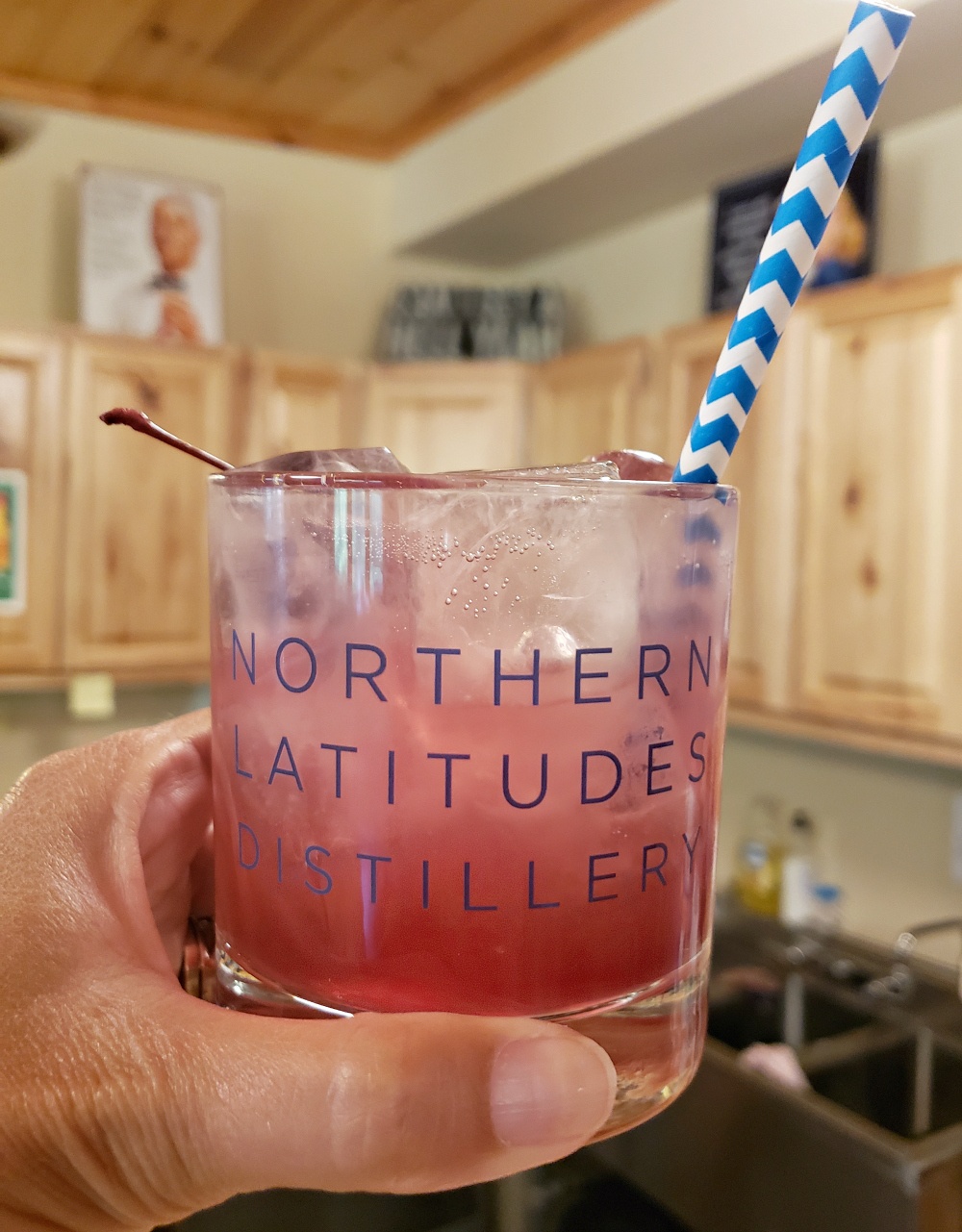 The prices are reasonable and these cocktails pack a punch! My mom's favorite is the Pina Colada, I like the Hell Yeah, Cherry Cobbler, Ginger Sunset and the Ginger Mule. The Kentucky Waffle is always a favorite of the guys. The Hell Yeah is the one pictured above.
Have you ever been to the wineries in Northern Michigan? If so, which would you say are the best Michigan wineries to visit?
Overall, there are over 140 wineries in Michigan and that number grows each year. Most of the wineries are located in Northern Michigan. If you would like to see a list of all the wineries in Michigan, you can do that here.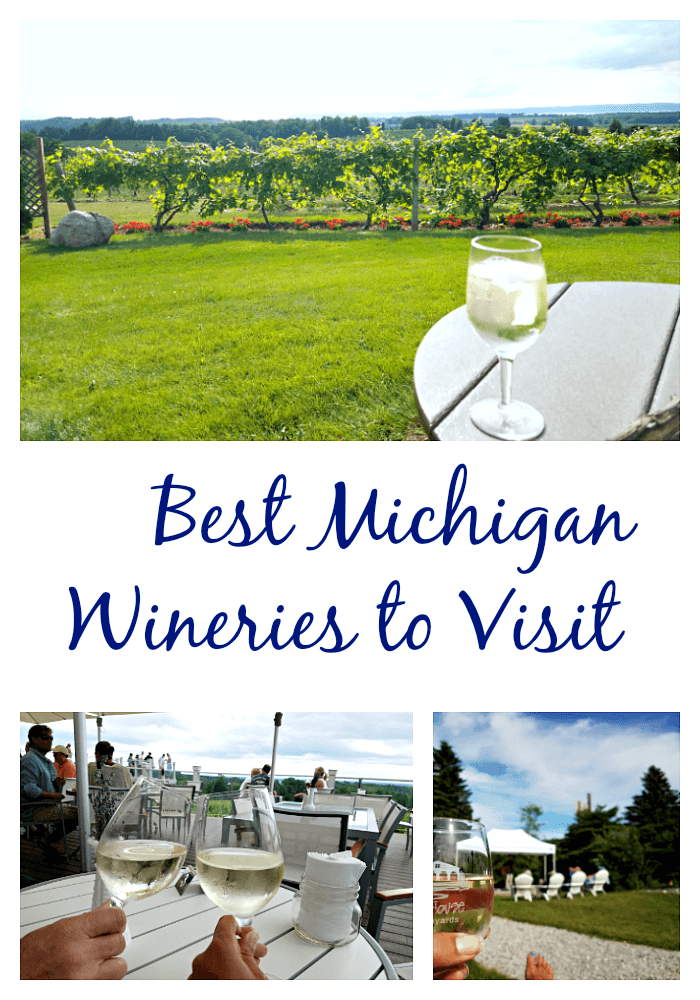 Be sure to check out Food Wine Sunshine on Facebook, Twitter, Pinterest, and Instagram for fun things to do, healthy recipes, and more.