(Last Updated On: August 27, 2019)
Ant-Man and The Wasp flies into theaters on July 6th! Don't miss this heartfelt superhero Marvel movie! Ant-Man and The Wasp is fun and will leave you smiling. While I was able to attend a free screening, all opinions are my own.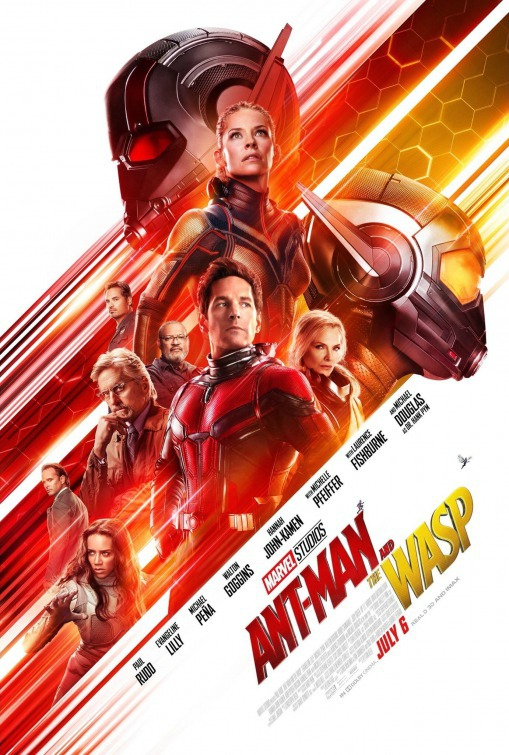 Ant-Man and The Wasp Movie Review
Family is definitely a theme in this Marvel movie, which is nice! Paul Rudd, Ant-man, is your silly superhero that we have all grown to love. In Ant-Man and The Wasp the comedy continues in the semi-serious fashion as Ant-man struggles with house arrest from his last Avengers escapade. He is faced with the decision of not necessarily saving the world like his Marvel counterparts, but saving those who are important to him and learning to do this with the misfit team that supports him.
I would definitely say that Ant-Man and The Wasp is safe for kids, there are some "gentle" swear words for sure, but nothing that my kiddos haven't heard before 😉 My kids are 10 and 13 and I would have no problem bringing mine to see the movie, but of course you have to do what is right for your family. There is not a lot of blood and gore, in fact, "action" isn't the main focus of this Marvel movie, but there are some intense fight scenes.
I will admit that I didn't see the 1st Ant-man in theaters, it was one of those films that I figured I would just wait until it was available for rent. And that was the wrong choice, I instantly regretted not seeing it on the big screen! So, when Ant-Man and The Wasp came out, I jumped at the chance to see it at a premier screening and I am thankful I did.
Be sure to stay for the two end credit scenes, and for all the Marvel fans out there you will be thankful that a few Marvel holes are filled.
Here is the Official Marvel Ant-Man and The Wasp Movie Description:
From the Marvel Cinematic Universe comes a new chapter featuring heroes with the astonishing ability to shrink: "Ant-Man and The Wasp." In the aftermath of "Captain America: Civil War," Scott Lang (Paul Rudd) grapples with the consequences of his choices as both a Super Hero and a father. As he struggles to rebalance his home life with his responsibilities as Ant-Man, he's confronted by Hope van Dyne (Evangeline Lilly) and Dr. Hank Pym (Michael Douglas) with an urgent new mission. Scott must once again put on the suit and learn to fight alongside The Wasp as the team works together to uncover secrets from their past.
Ant-Man and The Wasp Movie Official Trailer:
Ant-Man and The Wasp Movie Cast:
Paul Rudd as Scott Lang / Ant-Man
Evangeline Lilly as Hope van Dyne / Wasp
Michael Peña as Luis
Walton Goggins as Sonny Burch
Bobby Cannavale as Jim Paxton
Judy Greer as Maggie
Tip "T.I." Harris as Dave
David Dastmalchian as Kurt
Hannah John-Kamen as Ava Starr / Ghost
Abby Ryder Fortson as Cassie
Randall Park as Jimmy Woo
Michelle Pfeiffer as Janet van Dyne
Laurence Fishburne as Bill Foster
Michael Douglas as Hank Pym
Additionally Stan Lee, co-creator of the titular heroes, has a cameo in the film and Michael Cerveris appears as Ava's father Elihas Starr.
Do you plan on seeing ANT-MAN and the WASP? What is one of your favorite Marvel movies?
Find Food Wine Sunshine on Facebook, Twitter, Pinterest, and Google + for more fun things to do in Florida.
Looking for fun things to do in Florida?