(Last Updated On: July 3, 2019)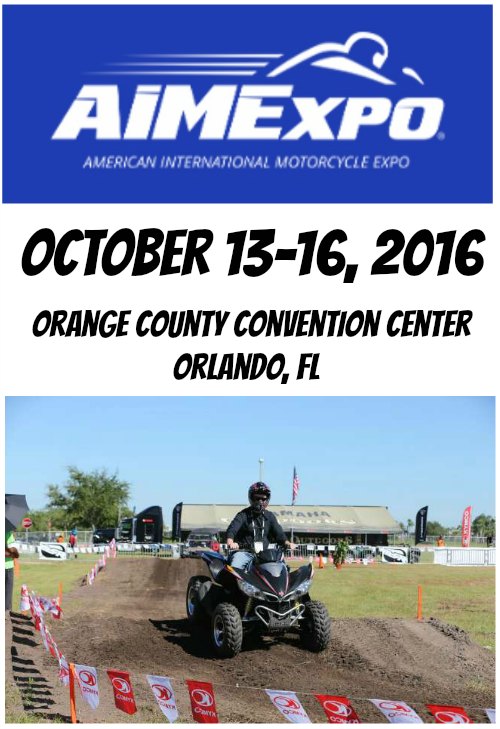 AIMExpo Orlando Discount Code
My son has been looking forward to the Fourth Annual AIMExpo for almost a year now. I am serious, he has actually been counting down the days! The AIMExpo is North America's Largest Motorcycle and Powersports Show and it zooms into Orlando this October. Tickets are on sale now and I even have a deal to share with you all – 2 for 1 admission!
**UPDATE – In appreciation for all of the sacrifices made by brave U.S. service personnel, retired and active military members are invited to attend AIMExpo for FREE! They simply need to present a valid form of military I.D. to the information counter located near the show floor entrance on Saturday, October 15 or Sunday, October 16.**
The 2016 AIMExpo will commence this October 13-16 from the Orange County Convention Center (OCCC) in Orlando, Florida, featuring a new prime location at the North Hall. North America's largest and most dynamic trade show for the motorcycle and powersports industry will open its doors to consumers on October 15-16, providing a one-of-a-kind opportunity to see the latest and greatest the industry has to offer for 2017.
With kids back in school, parents have more time to plan a fun family outing to AIMExpo with a special 2 for 1 Admission Special. This extra-special savings makes AIMExpo more affordable than ever for the whole family as kids 15 and under are free when accompanied by a ticketed adult.
Buy one adult ticket get one Kids Ticket FREE
Regular priced adult admission is just $15 for a single day pass, but advance purchasers can buy tickets online at a discounted rate of $13. Additionally, adults can purchase a two-day pass to enjoy both consumer days of AIMExpo for $20. Group rates are also available, with a single day pass for groups of 20 or more only $11 per ticket, when purchased online.
With hundreds of exhibitors, including 17 manufacturers, set to provide global and domestic debuts of a wide array of new products and showcase their latest innovations, enthusiasts will have the opportunity to immerse themselves in the world of motorcycling inside the North Hall. Additionally, the new exhibitor floor location puts the heart of AIMExpo mere steps away from the event's most unique trademark – AIMExpo Outdoors! – where consumers can swing a leg over a bike, saddle an ATV, or buckle into a side-by-side to get a hands on perspective of the marketplace's newest models.
In addition to the many new motorcycles, ATV's and UTV's, the full complement of the latest aftermarket products – gear and accessories – will be on display, many of which will also be available for purchase at the show. Moreover, a full slate of educational and informative seminars, along with the appearance of special celebrity guests, will offer additional opportunities for enthusiasts to enrich and enjoy their AIMExpo experience.
Now more than ever AIMExpo provides an unparalleled opportunity to literally See It, Touch It, and Ride It, all in one place, at one time!
Attendees can also immerse themselves in a brand new showcase for 2016 known as "Custom Culture at AIMExpo." Key components are the Championship of the Americas bike builders' competition, the Standard Motorcycle Co. Showcase, millennial artisans, bike builders, and more. There will also be a chance to meet Custom Culture ambassador Leticia Cline.
Consumers can also meet second generation road-racing legend Kenny Roberts Jr. The former world champion has been given the coveted distinction of "AIMExpo Champion" for the 2016 event.
Roberts Jr. is the son of Hall of Fame racer and motorcycle racing icon Kenny Roberts, who served as the inaugural AIMExpo Champion for the first ever event in 2013. Together they share the distinction of being the only father-son duo to ever win the FIM 500cc World Grand Prix Championship, now known as MotoGP, and are now the first father and son to serve the role of AIMExpo Champion.
Be sure to stay tuned to the AIMExpoUSA.com website and keep up to date on exciting news as it happens by visiting AIMExpo's social media pages. "Like" the American International Motorcycle Expo on Facebook, and "Follow" on Twitter or Instagram @AIMExpo.
While you are at it, be sure to visit Food Wine Sunshine for more Things To Do In Florida and stay up to date with me Facebook, Twitter, Pinterest, Google + and Instagram.