(Last Updated On: August 27, 2019)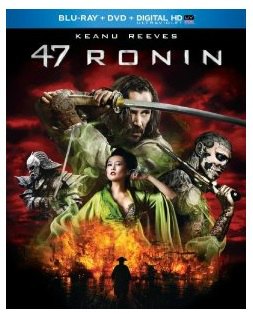 Are you ready for an epic action adventure? Well, head to the store, grab the instant movie, or hit your favorite rental spot and get 47 Ronin. I love Keanu Reeves and he is the star of this one. Grab your popcorn and get ready for a great movie!
When I asked my husband's take on the movie, this is what he said:
I must say that I was a little apprehensive at first. I haven't seen a Keanu Reeves movie since the Matrix trilogy and I wasn't sure what to expect. I was pleasantly surprised to be engulfed in a storyline that was able to merge the classic martial arts movie that reinforced the honor and tradition of the ancient samurai with modern cinematic digital effects. It quickly brought me back to the old Saturday night martial arts movies that I used to watch as a kid in which warriors would battle against each other for the honor of their Klan.
Here is a bit about the movie:
Based on an epic story, this extraordinary tale of inspiring courage has its origins in the early 18th century. After a treacherous warlord kills their master and banishes their kind, 47 leaderless samurai vow to seek vengeance and reclaim their honor. Transformed into a thrilling, visually stunning 3D film by director Carl Rinsch, 47 Ronin tells the story of a small group of warriors, or ronin, on a quest to avenge the death of their master. Battling across a savage world of mythical beasts, shape-shifting witches and wondrous terrors, the ronin must seek help from kai (Reeves), an enslaved half-breed they once rejected – in their ultimate fight for redemption.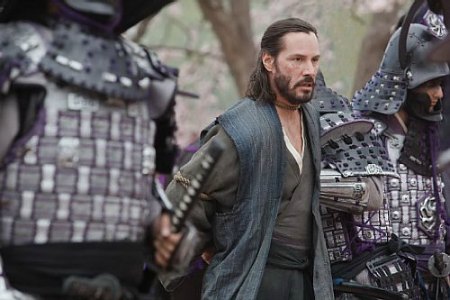 Keanu Reeves leads an international cast that includes Hiroyuki Sanada (Sunshine, The Last Samurai) as Oishi, the leader of the ronin; Tadanobu Asano (The Wolverine, Thor: The Dark World) as Lord Kira, the treacherous villain who will stop at nothing to destroy his enemies; Academy Award®-nominated actress Rinko Kikuchi (Babel, Pacific Rim) as the Witch, a siren who executes Kira's deadly plans; and Ko Shibasaki (The Lady Shogun and Her Men, One Missed Call) as Mika, the forbidden love of Kai's life.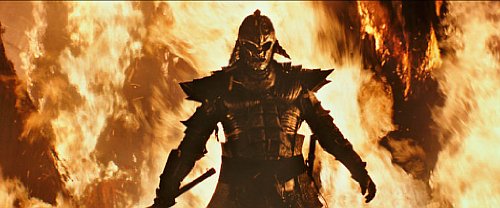 The Blu-Ray is available NOW at all your favorite stores, or grab it on Amazon and watch it instantly.
If you get the EXCLUSIVE 3D BLU-RAY™ COMBO PACK AND BLU-RAY™ COMBO PACK it has some awesome Bonus Features:
· KEANU & KAI — Keanu Reeves embodies one of cinema's most richly imagined heroes as Kai, the outcast who leads a small band of rebels against an army and supernatural enemies. Along with Reeves, director Carl Rinsch and other key voices from the filmmaking team reveal how this adventure would not be possible without Reeves' mastery of martial arts and total immersion in the role.
· STEEL FURY: THE FIGHTS OF 47 RONIN — This featurette explores the intense research, choreography and rehearsals that went into creating the film's unique action sequences, including Kai's epic battle against the silver Samurai and the heart-stopping Kirin hunt sequence.
· MYTHS, MAGIC & MONSTERS: THE FX OF 47 RONIN — 47 Ronin's world-class creative team reveals the technological magic it used to bring to life the creatures of ancient Japanese folklore, including The Kirin (a giant hybrid beast with the head of a dragon and the body of a deer), the Kitsune witch, the Oni troll and the demonic Tengu Monks.
3D BLU-RAY, BLU-RAY and DVD BONUS FEATURES:
· RE-FORGING THE LEGEND — The story of 47 Ronin is one of Japan's most time-honored legends. The filmmakers talk about how they brought this "dream world" to the big screen, from script to costumes, visual design, and culture.
47 Ronin is available now on Digital HD, Blu-ray™ 3D and Blu-ray™ Combo Packs, DVD, including UltraViolet™ and On Demand from Universal Studios Home Entertainment.
If you or your hubby likes action-packed movies – I recommend this one for sure – plus, Father's Day is right around the corner…just in case you need a gift idea!
Find Food Wine Sunshine on Facebook, Twitter, Pinterest, and Google + for more reviews, recipes, and FUN!
Disclosure: I received no compensation for this publication. I did receive this awesome movie for review from The PR Company. My opinions are my own and may differ from those of your own.